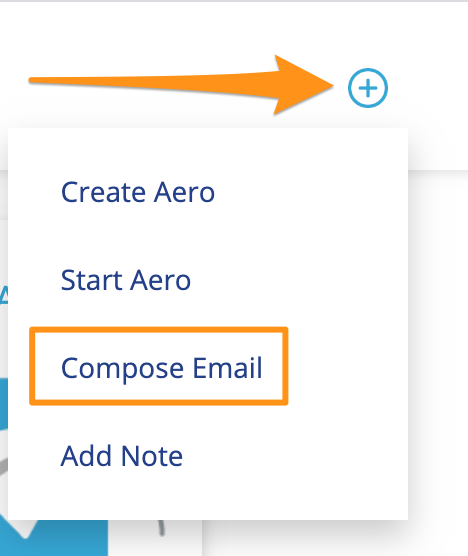 To create an send a new email, click the Quick Add menu and choose Compose Email.
The Compose Email screen will open with a timer running.
The From Name will autofill from the default on the My Preferences screen.
Enter the TO, CC, and BCC email address(es) by typing a name to search or simply type in the email address
Enter a subject
You can select an email template from the dropdown. Once you've selected the template you want to use, click the blue Pull from template button to insert it into the email.
If not using a template, type your email message in the Body field. Note that the email signature you entered on the My Preferences screen autofills at the end of your message.
You can enter time notes in the time notes field. The time notes will not be sent as part of the email.
Choose the Aero Type, Company, etc. from the dropdowns at the bottom of the screen.

Click the TImer button to select what to do next:

Pause

- Pause the timer.
Reset

- Reset the timer to 00:00:00
Defer & Save Draft - Save the email as a draft and defer it to your list. The draft will appear on your Aero list as an orange envelope.
Save & Send

- Save email you've written, mark it as complete, and send it.
Edit Time

- Edit the timer.
Delete Draft - Delete the email you've started and return to your previous screen. No time will be recorded.