You cannot delete a user, but you can make them inactive.
Navigate to Aero Settings > Team Members.
On the Setup Team Members screen, click the View button on the Team Member you want to edit.
When you're done creating your new user, click Save & Close.
Fields on the Edit Team Member screen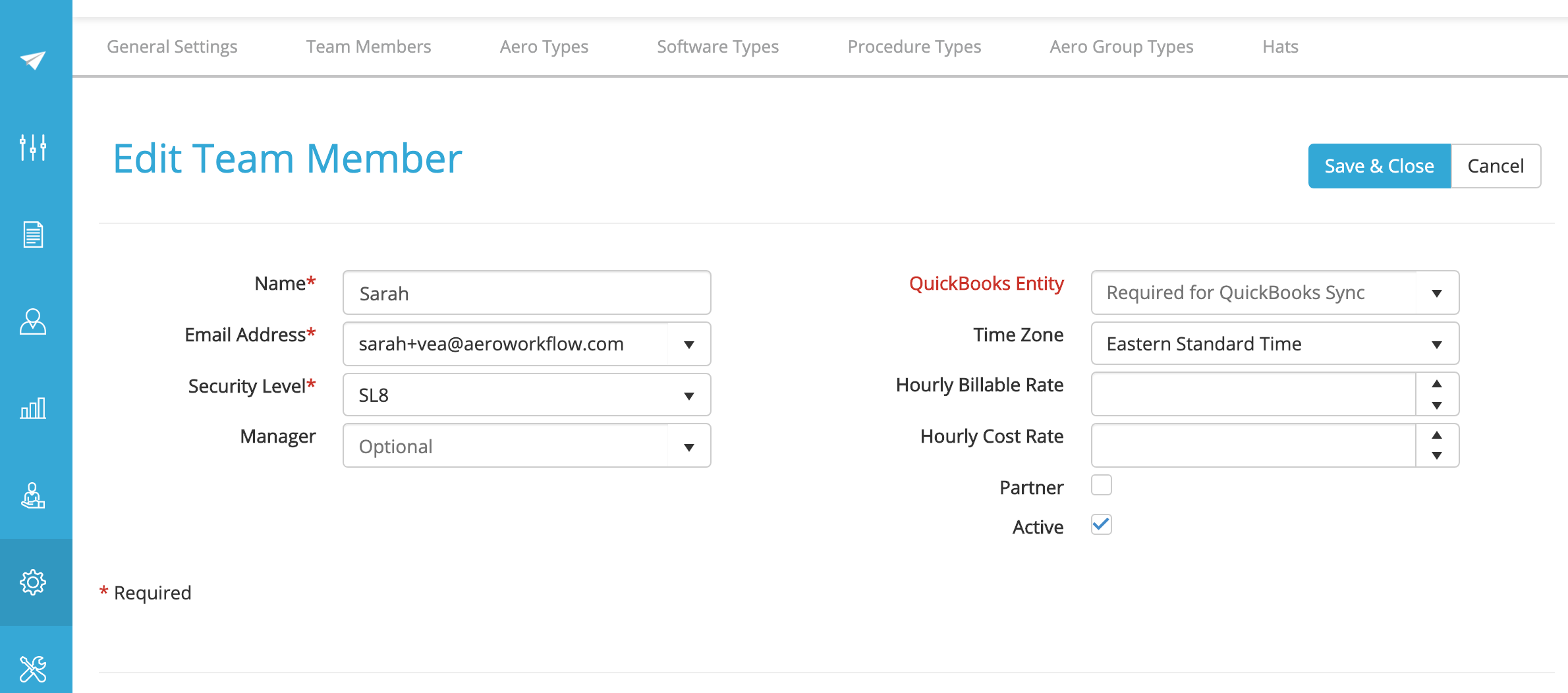 Name *Required - This is the name that will be listed on the Assigned To dropdown when you are creating a new Aero.

Email Address

*Required - The email address will be their username.

Security Level

*Required - There are 8 different security levels in Aero. To figure out which security level you want to use see how to choose a security level.
Manager - You can pick the manager here. The dropdown lists other team members that have been added to Aero.
QuickBooks Entity or TSheets Entity -

*Required for QBO or TSheets sync.

If you are syncing to QuickBooks Online or TSheets, you must choose the team member's corresponding Entity from the dropdown menu.
Time Zone - Choose the team member's time zone.
Hourly Billable Rate - You can designate a default Hourly Billable Rate for the team member. If you choose Team Member in the Billing Rate Option in Aero Settings > General Settings customers will be billed based on the rate you set here. You can type in a rate or choose one using the up and down arrows.
Hourly Cost Rate - You can enter a weighted or unweighted hourly cost for the team member. This rate does not sync to QBO, but it is used in many Aero Reports to calculate cost and margin.
Partner -Checking this box will designate the team member as a firm partner. This information is used for calculating KPI's
Active - An inactive Team Member will no longer be able to log into Aero, will not appear in any of the Assigned To drop-down menus, and will not count towards your number of users in your subscription.